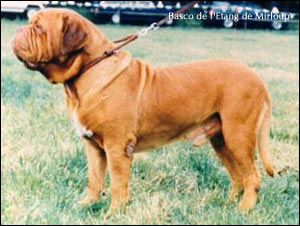 BASCO
de l'Etang de Mirloup

26.06.1986 (1997), LOE 333.464



Titles and Awards: World Champion 1991, Interchampion, Чемпион Испании, French Club Champion, Club Champion Испании 1989



Breeder: Claude Aubaux
Owner: Jesus Sanchez Pardo


The Judge's View



Баско

это всемирно известный испанский кобель бордоского дога, происходящий из французского питомника бордосских догов

de l'Etang de Mirloup

, принадлежащего Claude Aubaux. Гордость испанского клуба молоссов. Этот бордосский дог активно использовался в разведении в питомнике бордоских догов

de el Siscar

.

Pedigree
Underlined dognames are links to corresponding pages! Do not hesitate to click through.


ULL DE LA BERSEE DU LOUP
RHODES DES SOURCES DE ROCH ANIKRA
NOIKO
NASMY DU DOMAINE DES SOURCES
MYRTIS DE LA BERSEE DU LOUP
ROCK
IACA DU DOMAINE DES SOURCES
SAIGA DE LA LANDE DE KERIGAN
MISTRAL DE LA BERSE DU LOUP
ROCK
IACA DU DOMAINE DES SOURCES
OPHELIE DE LANDOUAR
IGOR DU MONT CLARENCE
NINA DU DOMAINE DES SOURCES
Genealogical lines:
Photoalbum: