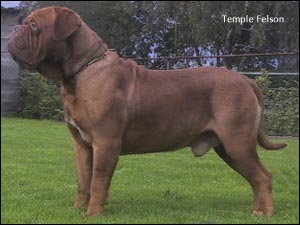 Temple FELSON

17.12.2001, NHSB 2413413



Titles and Awards: Junior World Champion 2003, Club Match Winner in France, Club Match Winner in Spain, Club Match Winner in Holland, Bosch Special Show Winner



Breeder: A. Barclay / Mellishes Kennels
Owner: Sheryl & Gerard van't Hul

The Judge's View



Этот кобель бордосского дога редкого и интересного сочетания кровей родился в Англии в питомнике бордоских догов

Mellishes Kennels

и был импортирован в начале 2003 года в Нидерланды известными голландскими заводчиками Шерил и Герардом ван Тулами, которым принадлежит питомник de la maison de Hollande. Особенно отличился на клубных выставках породы бордоский дог. Дает немногочисленное, но качественно потомство бордосских догов. Новые владельцы очень избирательны в отношении подбора сук. Ранее в 2001 году ими был ввезен на совладение дед Фелсона по кличке

Red Thunder (Бронсон)

.

Pedigree
Underlined dognames are links to corresponding pages! Do not hesitate to click through.


MAJESTICK RED
RED THUNDER
KING VAN DE BARGEFENNE
REGAL ROLEX
KENYEE ELLIE
MANOLITO DE LA SEIGNEURIE DES CHARTRONS
GAMBETTE DU TERROIR BORDELAIS
LARUSCADES MANDY
IJAY VAN DE BARGEFENNE
HERTZ DU DOMAINE DE L'OFFLARDE
DANCY VAN DE BARGEFENNE
JENNY FAIR DE L'ETANG DE MIRLOUP
HERTZ DU DOMAINE DE L'OFFLARDE
ELARI
Genealogical lines:
Photoalbum: